Profile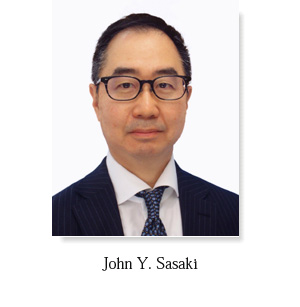 John Y. Sasaki
John received his Juris Doctor from Boalt Hall at the University of California in 1991, and became licensed as a member of the State Bar of California in the same year.
From 1991 to 1994, John worked at Whitman & Ransom in Los Angeles (which later became Whitman Breed Abbott & Morgan, and is now Holland & Knight), where he engaged in a general corporate and commercial practice in the representation of multinational and domestic corporations, including M&A, joint ventures, and distributorship, dealer and licensing relationships. From 1994 to 1997, he worked in Japan at two leading Japanese law firms, Komatsu & Koma and Anderson Mori (which is now Anderson Mori & Tomotsune).
In 1997, John joined Wilson Sonsini Goodrich & Rosati (WSGR) in Palo Alto, California. At WSGR, John represented private and public technology and life science companies in all aspects of their operations, including venture capital financing, M&A and public offerings. He also was heavily involved in U.S.-Japan transactions as the operational leader of the firm's Japan practice, including joint ventures and international restructurings.
In 2002, John joined Morgan Lewis in Tokyo as a partner, where he continued his practice from Silicon Valley and also expanded his practice to focus more on technology transactions and fund formation matters. In 2003, John obtained his license as a foreign-licensed lawyer in Japan (gaikokuho-jimu-bengoshi).
In 2006, John established JSV Foreign Law Office. In addition to continuing his practice from Morgan Lewis, John has served as a de facto in-house counsel for two large Japanese companies, a Japanese biotech venture which he helped to take public in 2007 and other public and private Japanese companies. Among his responsibilities in his in-house role are M&A, intellectual property licensing and strategy, technology licensing, corporate finance, labor matters, general corporate and contracts advice, and litigation support.
John has spoken several times in Japan on venture-related issues, most notably as the keynote speaker at a symposium entitled, "Venture Business Support Symposium – Searching for a New Japanese Business Model beyond the Silicon Valley Model", at the height of the technology bubble in Japan in March 2000. This symposium was co-sponsored by the Tokyo Metropolitan Government, the Tokyo Chamber of Commerce & Industry and Nihon Keizai Shimbun, Inc., and was attended by over 1,000 participants.
He is also a co-author of "Law and Finance of Venture Companies in Japan", which was published by Shouji Houmu in 2010.
John is also currently a lecturer at Keio University, where he co-teaches a class entitled" Drafting International Agreements". From 2010 to 2012, he also taught a class entitled "International Business and Law" at the Hitotsubashi University Graduate School of International Corporate Strategy.
John is fluent in both English (his native language) and Japanese.